Barger & Nix Organs
First and foremost, we are high-quality organ builders. We do all types of pipe organ building. Our areas of expertise include: Service and Tuning, all kinds of Rebuilding and Additions, and Building New Organs.
Our company began in 1960 in Chattanooga when William Barger began servicing pipe organs as an independent technician. Initially, our business was centered on theater organs and reproducing player pianos, although we have always had church organ customers. From the mid-1960's to the mid-1970's.
Mr. Barger worked with Mr. W.R. Bradberry of Signal Mountain, Tennessee, who was the M.P. Möller organ sales and service representative in eastern Tennessee. Mr. Bradberry was a uniquely gifted craftsman, and his talent largely led Mr. Barger to aspire to the highest degree of craftsmanship and integrity.
Charles Nix joined the company first as a summer employee, and a few years later became a full partner in the expanding business. We began to do more and more rebuilding, and to build new organs also,although service and tuning remains an important element in our work because it provides a direct connection with constomers that a factory does not have. We presently have over 125 regular service customers.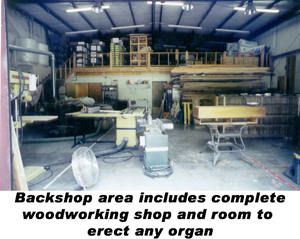 Our
rebuilding work
and
new instruments
have been extremely well received by all who have heard them, including several concert artists. We work with customers to design the best possible organ for them under any financial constraints that may be present. Parts of the organ that are beyond our own shop facilities are contracted to the best-quality shops in the country, and are always built to our specifications and requirements. Utilizing existing instruments and rebuilding organs is our greatest field of expertise. We have extensively specialized in using existing quality instruments as the basis for achieving an excellent organ for our customers at a fraction of what the instrument would cost if it were all new. Since we have no responsibilities to factories to keep them busy with producing new parts, we can honestly work with our customers to preserve good existing instruments or parts, and we have developed the necessary skills required to gain excellent results using existing instruments rather than having to build everything new.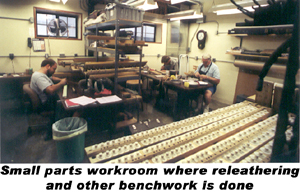 We also bring our many years' collective experience with church music into our work. Not only are we a group of pipe organ builders, but we are also all involved in some way or another every week with church music. Mr. Barger has been either a choir director, organist, or organist/choir director in many churches since 1957. Mr. Nix is a skilled singer and has experience with church music from the singer's standpoint. He also plays the harp. All of our employees either play the organ in their church or substitute for vacationing or ill organists and sing in their church choirs when they are not playing. We feel that our experience with church music helps us better know what our customers' instruments need to be able to do. We always strive to produce results that we would be proud to play ourselves every Sunday. We also do all of our own
scaling, voicing, and tonal design work
as well as the finishing of the voicing of our insturments after they are erected in the church. We feel that it is necessary for us to do all of this work ourselves if it is to be up to our standards of quality.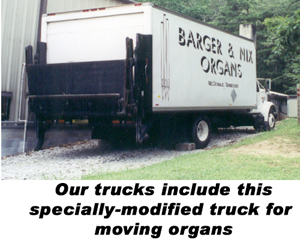 We expect to continue our growth by always building to the highest degree of craftsmanship, and operating our company with the integrity that is so often missing in today's world. We have modern shop and warehouse facilities adequate to accommodate any restoration or new instrument. We are fully insured and our company is financially sound. In addition to our experience with Möller and Aeolian-Skinner who are now out of business, we are
factory-approved service
technicians for Schantz, Austin, Casavant, Wicks, Zimmer, Reuter, and other companies.